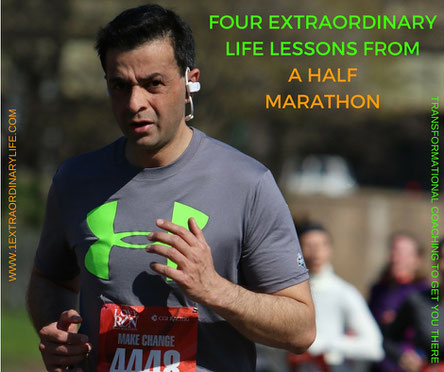 On April 10th I completed the Philadelphia Love Run Half Marathon. Named after the City of Brotherly Love, this was the second year in a row that I challenged myself to participate in the 13.1 mile run. Training for the Love Run was no easy task as I am not a long distance runner. I've always been a sprinter so challenging myself to this both last year and again this year was an attempt to try something different and to see if I would enjoy it (emphasis on 'enjoyment', more on that later).  I'd like to share with you four key points I learned from the experience:
1.       DISRUPT THE AUTO-PILOT AND KNOW WHO YOU ARE BEING: 
      Like most people, throughout my day I carry out a multitude of activities. From waking up in the morning to getting ready for a conversation with a client, to helping friends in need, to studying, to consulting… the list goes on. Most of these activities happen on auto-pilot; they are a part of my unconscious being and I simply get the work done. But do I ever stop to think about the impact of them and who I am 'being' while I go about my business? This year I had to do just that in order to re-arrange my schedule to accommodate the training needed to complete the marathon. I had to figure out a way to disrupt the auto-pilot. This involved creating a new version of myself, one that would make time for training runs, get to sleep on time, ensure my diet was appropriate and provide myself adequate self-care after each training jog so that I would not suffer injuries. All amidst the regular daily activities that I was also meant to be doing.  Long story short, I learned a lot about myself through this experience: that I am capable, that I can make changes in my life to meet my goals. Most importantly, I learned that I need to BE a certain person in order for all of this to work. This introspection allowed me to see that I had to be a different person than the auto-pilot version in order to succeed in my goal of running the half marathon. This version of me needed to train, was more disciplined, more active, able to prioritize, not a procrastinator, and was a version that was a lot closer to my best self. A stronger, more determined, faster, better version of myself. Wow, almost sounds like Superman (and, yes, that's exactly how I felt when I completed the race)!   It made me stop and wonder, "What have I learned about myself through this experience?". It gave me the ability to see who I am BEING when I undertake a certain task. After all, I am a Human-Being and not a Human-Doing. I can ask that question of myself anytime during the day now, and guess what? I can gauge it against any ideal I set for myself. Who are you being today? This instant? Is it who you want to be?
2.       JOY, THE SECRET INGREDIENT TO 'STICKING WITH IT':
I started my jogging regimen earlier in the year while visiting family in London. I started with just 3 miles initially, with the intention of gradually ramping up each week. The jogs were "lovely", as they would say in England. I would run alongside the river in Brentford and make my way through some residential roads and across a few parks. The diversity of the scenery and the occasional greeting from passersby felt wonderful. Then I came back home to Philadelphia and started jogging at a park close to my house. There was a problem, however, as the park only had a one-mile loop and doing the same loop again… and again… and again… became tedious. I started finding myself not looking forward to doing it and the monotony began to get to me. The London experience offered more variety, more interaction with people and better scenery; simply put, it was a more pleasurable and joyful experience. But guess what? I had the opportunity to provide myself that same experience in Philadelphia. I made the decision to find a trail that offered me similar experiences to those in London. A scenic route, more interaction with people and a much longer trail was just what I needed. I liked it so much that I couldn't wait for the weekends to come so I could go for that long jog. Making it a pleasurable experience allowed me to stick with it to the end. In fact, I enjoyed it so much that I have decided to regularly continue with smaller jogs along the same trail, even though I am no longer training for a race. What activities do you dread and how can you inject joy in to them?
3.       THE POWER OF BELIEF:
As mentioned earlier, I was never a long distance runner. But I have also never been hesitant to challenge myself, either. When I first considered doing the Love Run last year, I thought it was at least worth the try. "What is there to lose?", I asked  myself. Worst case scenario, I would not be able to complete the whole distance. Best case scenario, I would be able to complete the run in a ridiculously short amount of time. Instead of trying to predict what the outcome would be, I decided to just go for it. Once I started training, I knew I would be able to complete the run and the most likely scenario would be one that resided somewhere between the worst and best case scenarios. Had I not had the belief in myself to at least try and give myself the chance, I would have robbed myself of both the joy mentioned in point 2 as well as the learning in point 1, not to mention the satisfaction of achieving a goal I set for myself that ultimately links to my health and well-being. I chose to keep a growth approach and to look at the activity as one of opportunity and possibility, which is what allowed me to meet my goal. How do you choose to believe in yourself?
4.       YOU HAVE THE RESOURCES WITHIN YOU: 
The fact that I had never in my life been a long distance runner meant that I could easily have given up and pretended that I did not have it in me to run a half marathon. But due to the power of belief, I was able to convince myself that a long distance run was possible. What resources did I need in order to accomplish this task? It turns out all I needed was myself. Yes, I had to read up on how to train and to consult with some experienced runner friends of mine. However, when it came right down to actually training and running and completing the race, it took my own resourcefulness and abilities to get it done. No one could do it for me. No one knew my circumstances or abilities better than me. It was solely up to me as to how I would tap into my own resources physically, mentally and emotionally to accomplish what I did. I trained physically; emotionally I kept my morale high and the joyful jogs helped; and mentally I was focused on my goal. I called on these resources of mine and they were there. Now that I have started tapping into them, they will only grow stronger. I created my own path to complete what I set out to do. What resources and strengths can you call upon for the important things in life?
Had I not been able to learn from my experience and discover the version of myself I wanted to be to accomplish my task, had I not learned to enjoy my training regimen, believe in my own abilities and tap into my strengths and resourcefulness, I would not have been able to achieve what I set out to do. The fact that I was able to do all of this not only allows me to view life with a "can-do" attitude, the experience also adds to an abundant reservoir of positive experiences in my life. Experiences I can draw from in times of need. What activities allow you to live life at the next level, extraordinarily? If you would like to learn more about how to bring concepts like these to life for yourself, then contact me to find out how I can help transform your life from one of ordinary to extraordinary.